University of Oxford makes joint appointment of Professor of Sustainable Energy Engineering and ZERO Institute Director
Thursday 09 Mar 2023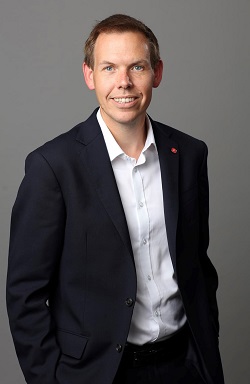 Professor Paul Shearing will lead the new Zero-carbon Energy Research Oxford (ZERO) Institute and bring extensive experience in electrochemical engineering to the University's response to the urgent need for system level change in the energy sector.
Professor Paul Shearing has been appointed as the University's new Professor of Sustainable Energy Engineering by the Department of Engineering Science and St Cross College. He will also serve as the Royal Academy of Engineering Chair in Emerging Battery Technologies as well as the Director of the new Zero-carbon Energy Research Oxford (ZERO) Institute.
Professor Shearing comes to Oxford from University College London where he was Professor of Chemical Engineering. His research interests cover a broad range of electrochemical engineering themes with a particular interest in the characterisation and understanding of materials for batteries, fuel cells and other energy applications. He was a founding investigator of The Faraday Institution, the UK's independent institute for electrochemical energy storage research where he leads the LiSTAR and Safebatt research programmes. He is a major user of synchrotron and neutron facilities, and founded the UK STFC Global Challenge network in Batteries and Electrochemical Devices.
The ZERO Institute was launched by the Departments of Engineering Science, Materials, and Geography and the Environment in spring 2022 to bring together leading academics from a range of disciplines to address questions surrounding zero-energy systems and their implementation. It aims to establish Oxford as a centre of research excellence and thought leadership on global and equitable zero-carbon transition and has secured a £3.25m investment from the University's Strategic Research Fund.
As ZERO Director, Professor Shearing will develop the University's vision for the Institute, helping to shape its ethos, strategy, networks, research and teaching programmes. His experience and contacts will help position the Institute to engage at the highest level with government, industry, the third sector and academia. ZERO will build on the University's existing extensive energy research activities, which span more than 20 departments and 200 researchers.
Professor Patrick Grant, Oxford Pro-Vice-Chancellor (Research), says "I am delighted to welcome Paul to Oxford and to the ZERO Institute. I am sure he will make further outstanding scientific contributions in his specialist area of electrochemical devices but he will also bring energy and vision to the strategic aims of the Institute, inspiring colleagues and collaborators to work together on pressing and difficult problems in sustainable energy."
The ZERO Director will also lead the University's input into Mini TESA – The Energy Systems Accelerator pilot, a clean energy innovation hub in partnership with industry that was opened in Holywell House in Osney Mead, in 2022. Scientists share space with social enterprises, industrial and local government stakeholders to pool their expertise and address the energy systems challenge from multiple perspectives, including technological, economic and behavioural.
Professor Shearing will bring extensive experience in the study and design of electrochemical processes to bear on the urgent need for system level change in the energy sector, with innovation required in energy systems, generation, storage, and distribution to tackle the challenges of equitable, zero-carbon energy transition. The newly created Professorship will build on the Department's work as lead for the University of Oxford in two UK smart energy systems demonstrator projects, the Energy Superhub Oxford (ESO), and Local Energy Oxfordshire (LEO).
Engineering Science Head of Department Professor Ronald A. Roy says, "I am very pleased to welcome Paul Shearing to the department and to the ZERO Institute. He will be a transformative addition, adding critical mass to our research activities in energy storage and helping to lead our strategy for growing energy research across the department. In addition to helping establish the ZERO Institute, Paul will expand their research portfolio, add visibility, build bridges across departments and divisions, and energise everyone with his infectious enthusiasm. His arrival will be a boon to the University."
Head of Department for Materials, Hazel Assender says, "I very much welcome Paul Shearing's appointment as Director of the ZERO Institute in Oxford, and I, alongside colleagues in Materials, look forward to working with him to build a substantial and impactful cross-disciplinary activity to help address this critical challenge of Zero-Carbon Energy. His engagement and drive are evident, and this appointment provides an excellent opportunity to further build, and pull-though the impact of, energy-related research, technology and policy based on the breadth and depth of expertise in Oxford."
Tweet link opens new window
Tweet