Scientific meeting: H-mode transition and pedestal studies in fusion plasmas
Monday 15 Nov 2021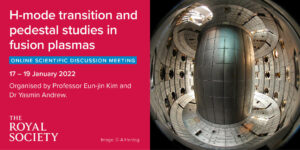 A scientific discussion meeting oganised by Professor Eun-jin Kim and Dr Yasmin Andrew.
Overview
This meeting discussion will take place on 17 – 19 January 2022,  and will provide a valuable opportunity for focused discussions on the cross-machine approach (experimentally and theoretically) to further our understanding of H-mode access and exit, providing a forum for the exchange of specialist knowledge and co-operation.
Poster session
This event will feature a poster session. The posters will be selected by the organisers of the meeting. If you are interested in submitting a poster for consideration please send a title, list of authors and a 200-word abstract, in the third person with no references nor pictures, to scientific.meetings@royalsociety.org with subject line 'H-mode transition and pedestal studies in fusion plasmas: poster submission' by 15 December 2021. Please note the poster presenter should submit a request to attend the meeting before they send us a poster abstract.
More information on the speakers and programme can be found on the Royal Society website.
Tweet link opens new window
Tweet