Reflections on COP: A need for new partnerships and local action to keep 1.5 alive
Wednesday 01 Dec 2021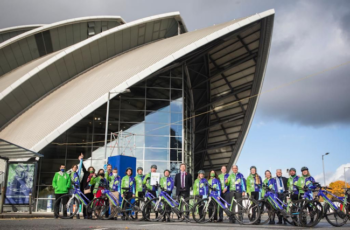 During the first two weeks of November, I (Rebecca Ford) was lucky enough to attend COP26 in Glasgow.  During the first week I spent my time mostly in the Green Zone[1] and the City Centre at various fringe events, including the youth climate march. During the second week I took part in the Moving for Climate NOW bike ride, and spent the remainder of my time in the Blue Zone[2] attending side events and talks hosted by various pavilions. Looking back at my experience three key things stand out for me.
1) COP is about more than the international negotiations
Without a doubt the formal negotiations are the key aspect of any COP, but particularly this year as counties revisit their nationally determined contributions (NDCs), set out their pledges for taking action to limit global warming, and seek agreement on key legislation underpinning the international negations agreed at COP21 in Paris.
However, for me, it felt like there was so much more to COP than these nationally led negotiations. There has also been vast levels of huge action from city leaders sharing their successes, creating new networks, and setting climate goals (often more ambitious than their national level counterparts), from business and industry considering the role they have to play in adapting their strategies to align with delivering net-zero, and from wider society through civic engagement, expressed poignantly by the thousands of people participating in the Glasgow climate marches held on the 5th and 6th November.
So, while many may focus their post-COP attention on the outcomes of the formal negotiations, I think we'd be remiss to neglect the broader impact and role that both sub-national and non-state actors will play in advocating for and implementing change.
Writer:  Dr Rebecca Ford, Chancellor's Fellow, Departments of Government & Public Policy and Electronic & Electrical Engineering, University of Strathclyde
Tweet link opens new window
Tweet