Webinar
Positive Energy Futures – The role of energy demand reduction in achieving net-zero in the UK
Wednesday 08 Sep 2021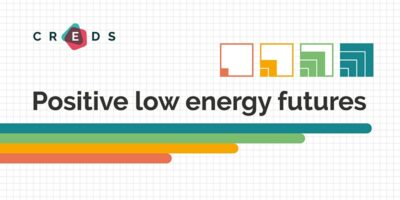 This event launches a new report from CREDS which outlines positive low energy futures for the UK that achieve net-zero emissions by 2050.  It takes place on Wednesday, 6th October 2021 at 15:00 BST.
At this event, CREDS is launching its new report 'The role of energy demand reduction in achieving net-zero in the UK'.
The report provides the most comprehensive assessment to date of the role of reducing energy demand to meet the UK's net-zero climate target.
The study brings together 18 energy demand modelling experts from within CREDS to provide extensive detail on the possibilities to reduce energy demand in every sector.
These sectoral reductions in energy demand are brought together into a whole-system modelling approach, to understand the potential contribution of energy demand reduction to support climate action in the UK.
You can read more about this event by visiting the CREDS website here.
Tweet link opens new window
Tweet