Oxford Open Energy – a new journal publishing across the entire spectrum of the energy field
Monday 12 Jul 2021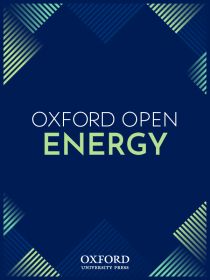 Oxford Open Energy is a fully open access journal that publishes broad-scope research across the entire spectrum of the energy field, ranging from the physical to the social sciences. The main aims of Oxford Open Energy are to identify key topical challenges, help to provide relevant solutions for decarbonizing energy systems as part of the global energy transition, and to deliver content with wide societal impact. Interdisciplinary submissions that span more than one energy discipline are therefore strongly encouraged.
The journal welcomes research from fundamental to applied, covering energy science and technology, energy economics and markets, social aspects and socio-economics, policies and transition, and sustainability. Examples of areas of contemporary interest include:
Clean energy technologies and storage
Energy systems
Social and policy aspects
Economics and markets
Oxford Open Energy endorses the UN Sustainable Development Goals; in particular Goal 7, "Affordable and Clean Energy", but also indirectly to Goals 9, 11, 12 and 13 which have close links to energy. The journal welcomes SDG-linked contributions.
Tweet link opens new window
Tweet