TESA pilot aims to forge UK's energy systems transition
Friday 04 Mar 2022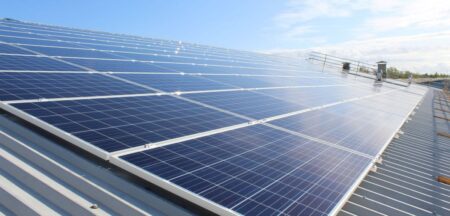 There is arguably no greater challenge for the UK and the rest of the world right now than the energy systems transition. Radical challenges require radical solutions. A new world-leading multi-disciplinary hub and co-working space located in Oxford, Mini TESA – The Energy Systems Accelerator pilot – aims to tackle the challenge
The way we source energy, the way we use it domestically, at work, the way transport is powered and how this is all financed and implemented – are all pieces of an extremely complex puzzle.
Recent international diplomatic crises, surges in UK energy prices and political lobbying have starkly highlighted this.
Each component of our energy system presents its own challenge, with its own stakeholders, and yet each needs to work seamlessly together in a unified system if we are to meet our carbon reduction commitments.
Everyone needs to be able to adapt to the changes and they need to benefit those at all stages of life, financial situations and geographical locations.
Such complexity requires the minds of many and for all considerations to be represented in the thinking. Technological innovation and changes in habit will only be embraced if they work on the ground and benefit lives already stretched with demands on time and money.
A new world-leading multi-disciplinary hub and co-working space located in Oxford, Mini TESA – The Energy Systems Accelerator pilot – aims to bring these minds together to tackle the challenge. And this month, it opens its doors.
Located in a converted 1960s building on an industrial estate that is home to an assorted mix of research labs, start-ups, social enterprises and wholesale food markets, a stone's throw from the city's rail station, the refitted interior is a vision for a new way of working and a catalyst for change.
Inside this building three exciting things are happening simultaneously which could just lead the way to creating a blueprint for the UK's energy systems transition.
Firstly, in a unique working arrangement, scientists are sharing space with social enterprises, industrial and local government stakeholders. Concerns about intellectual property (IP) which have traditionally funnelled scientific groups into tightly protected groups, working in highly specialised siloes, have been re-thought so that a shared mission enables collaborations previously thought impossible.
Secondly, scientists, researchers and university academics from a wide variety of disciplines are physically working together to pool their expertise and think through problems from multiple perspectives – from the sharp end of technological challenges and the economics of how this works in financial systems, to the human behaviour considerations needed for adaptation.
Thirdly, teaching and research are flourishing side by side with the University of Oxford's MSc in Energy Systems led by Professor David Wallom, taught here in open, adaptable learning spaces right across the hall from one of the country's most prestigious energy research labs led by Malcolm McCulloch – Associate Professor in Engineering Science and head of the Department's Energy and Power Group.
Professor Chas Bountra, Pro-Vice Chancellor (Innovation) for the University of Oxford, says of the hub: "The University is proud to be leading this project, bringing together engineers, scientists and social scientists from within the University to work closely with businesses and civic stakeholders. The Oxford innovation ecosystem is the perfect place for this collaboration to ensure we make the very best improvements to energy systems that will contribute to a zero-carbon future. Not only that, but TESA will support entrepreneurs building new businesses, create jobs, and encourage investment and economic growth in the local community and across the UK."
The radical approaches piloted here are part of a distinct and focused vision which has its sights on a new, permanent building, employing 800 people from a broad spectrum of professional backgrounds to make the energy systems transition happen in the most efficient, sustainable and equitable way possible.
Mini TESA has four years to prove its approach will lead to the outcomes the country and our planet need to safeguard the future. And while 'serendipitous innovation' is a watchword of what is hoped will happen within these walls, there is nothing accidental about its development.
With Oxford spearheading two of the country's major demonstrator clean growth projects funded through Innovate UK's Industrial Strategy Challenge Fund – Project Local Energy Oxfordshire (LEO) and Energy Superhub Oxford, the city is fast becoming a sustainable energy pioneer by making itself both the subject and instrument of research and planning. The aim is that by fusing the vision, the precision and the pragmatism, its solutions will be ready to scale up with speed when the policy lights turn green.
Tweet link opens new window
Tweet