Oxfordshire celebrated as champion for local energy innovations on COP26 bus tour
Tuesday 26 Oct 2021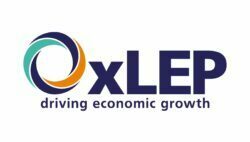 Oxfordshire has been heralded as a energy champion in the fight against climate change as the UK prepares to host the COP26 summit next month.
A fully electric double-decker bus pulled into Oxford City Centre on 19 October (pictured) on the first stop of a 'Road to Renewables' nationwide tour.
Showcasing some of the most innovative clean energy projects, the tour is organised by renewable energy leader SSE and bus manufacturer Alexander Dennis.
The COP26-branded bus, built in Britain by Alexander Dennis and BYD, stopped off in Oxford as part of the two-week tour to mark the success of Project LEO (Local Energy Oxfordshire) in putting Oxfordshire front and centre of the clean energy transition.
Tweet link opens new window
Tweet