Flow batteries could be a big part of our energy storage future. So what's a flow battery?
Monday 23 May 2022

A battery project uses a technology that could be vital for meeting the need for long-duration energy storage.
A clean energy development this week in the San Diego area isn't much to look at. Workers will deliver four white shipping containers that house battery storage systems. Soon after, workers will hook up the containers so they can store electricity from a nearby solar array.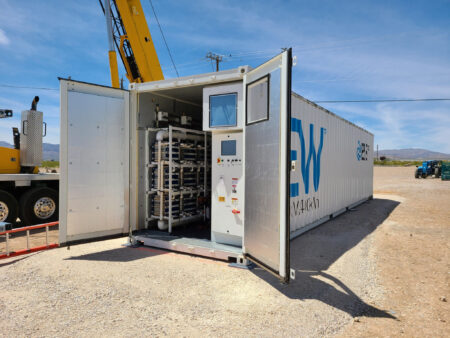 The part that I care about is the "flow battery" technology inside those shipping containers, developed by ESS Tech Inc., an Oregon startup. Flow batteries have the potential to be an important part of the energy transition because they can provide electricity storage that runs for much longer than the typical four hours of the dominant technology, lithium-ion batteries.
So what is a flow battery? A key design element is the use of two external tanks that contain electrolyte fluids that get pumped through the battery as it charges and discharges.
The duration of the battery, which is how long it can run before recharging, increases based on the size of the tanks. Think of this as the battery equivalent of one of those novelty baseball helmets that hold two cans of soda. If you switch out cans of soda for two-liter bottles, you can drink a lot more.
Written by Dan Gearino, Inside Climate News
Read more here at Inside Climate Energy
Tweet link opens new window
Tweet