Heat pumps are the most climate friendly way to heat homes, but…….
Thursday 12 Aug 2021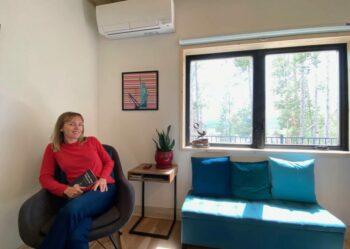 Heat pumps are the most climate friendly way to heat homes, but still emit a climate super pollutant, despite the availability of a cleaner chemical.
When Kristen Taddonio, a former EPA official and climate policy analyst, decided to build a clean energy home in the mountains of Colorado, she had mixed feelings about how to best heat it.
She and her husband wanted to use heat pumps that draw warmth out of the air outside the home because of the technology's reputation as one of the cleanest, most energy efficient heat sources available. Using this rapidly emerging form of heating in Fraser, Colorado, with annual, average temperatures among the coldest in the contiguous U.S., would also serve as a proof of concept.
Until recently, air-source heat pumps were limited to more moderate climates. The devices performed poorly in extreme cold. However, recent advances meant the pumps, which use a fan to pull heat from outside air and a compressor to concentrate it before pumping it through the home, could now be used in even the coldest climates.
Read the full article in Inside Climate News, 12 Jul 2021 : Manufacturers and safety officials welcomed a new refrigerant with fewer climate impacts.
Tweet link opens new window
Tweet