POSTPONED Picturing the future city: digital devices, big data and being human
Start &nbsp

Tuesday 05 May 2020 6:15pm

Finish

Tuesday 05 May 2020 8:30pm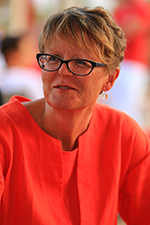 One of the most significant transformations happening in cities across the world is the use of 'big data'. Big digital data is generated by all sorts of sensors in urban environments, from air pollution and water level monitors, to smartphone apps and surveillancecameras. Big data can take many forms; both city governments and private platforms like Google and Uber are creating and using it, as are many citizen and community initiatives. So far, geographers have paid a lot of attention to the infrastructure and economics of this change, but this lecturewill address it from a different angle. It will explore the visions and imaginaries of urban futures that are entangled in these technological innovations, and will suggest that these future cities are not only going to look very different, they will feel different too.
Speaker
Professor Gillian Rose is Head of the School of Geography and the Environment.  She joined the School  in 2017, moving here from The Open University. She was awarded her PhD from the University of London in 1990 and has since taught at the University of London and Edinburgh University as well as being an Andrew W Mellon Distinguished Visiting Scholar at the University of Pretoria in 2015. Professor Rose was Associate Dean (Research) in the Faculty of Social Sciences at The Open University and also Head of the Geography Department there for four years. In 2015 she was elected a fellow of the British Academy.
Gillian is a cultural geographer. Although her empirical research interests have shifted over time, she has long been concerned with the politics of knowledge production: who creates what kinds of knowledges, how those knowledges circulate and transform, and what kinds of worlds are thus constituted.
Tweet link opens new window
Tweet