ONE Annual Lecture – Environmental Governance for the Anthropocene: Promising New Directions or Dead End?
Professor Harriett Buckeley, University of Durham
Start &nbsp

Friday 21 Oct 2022 4:00pm

Finish

Friday 21 Oct 2022 5:30pm

Venue

Natural History Museum Oxford
Oxford Networks for the Environment Annual lecture 2022 and briefing event
Keynote speaker:  Harriet Buckeley | Over the thirty years since global environmental issues rose to prominence on international science and policy agendas their governance has largely been undertaken under the paradigm of ecological modernism. Ecological modernism carries with it deeply held and often implicit assumptions which are bound up with modernist ideas concerning progress and liberty. Central for example has been the weight given to scientific assessment as a means of knowing and anticipating environmental harm. Equally crucial has been a focus on technological and economic development as a means through which environmental challenges can be resolved. The institutions of the modern state – from specialised agencies to international organisations – were also cast as the primary actors of environmental governance. The result has been a persistent concern with governing the climate and other global challenges as singular, collective problems through state-based authority, science, economic levers and technical progress. Yet across the social sciences and through the realm of policy and practice the viability of this paradigm of environmental governance in the conditions of the Anthropocene is increasingly questioned. Climate change as decarbonisation and as resilience is not a singular problem of the commons but a tangled 'complex' of governance challenges the responses to which increasingly appear in the form of various modes of 'experimentation' – living laboratories, policy innovations, learning-by-doing and alternative practices. Far from being simply a stepping stone towards more integrated, co-ordinated, centralised and controlled forms of governing, we may be moving towards a condition of permanent experimentation as the means through which we govern the Anthropocene. This lecture will examine how experimentation has arisen from the tensions inherent to ecological modernism and explore whether these new directions can lead to promising futures or inevitably are a dead end.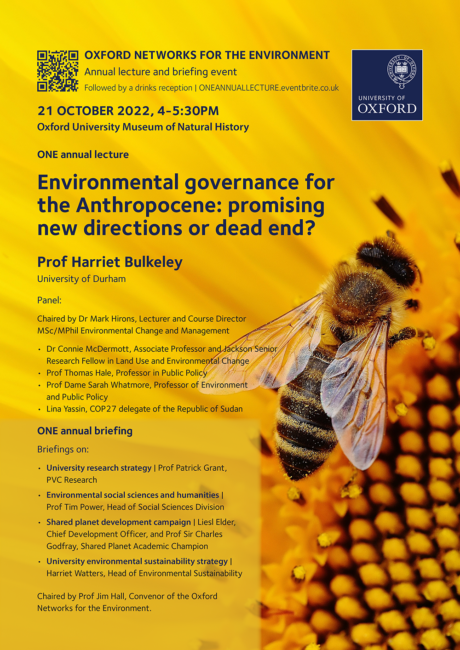 Chaired by Prof Jim Hall, Convenor of the Oxford Networks for the Environment
ONE annual briefing
University research strategy | Prof Patrick Grant, PVC Research
Shared planet development campaign  | Liesl Elder, Chief Development Officer, and Prof Sir Charles Godfray, Shared Planet Academic Champion
University environmental sustainability strategy | Harriet Waters, Head of Environmental Sustainability
Panel discussion:
Chaired by Dr Mark Hirons, Lecturer and Course Director, MSc/MPhil Environmental Change and Management
Dr Connie McDermott, Assoicate Professor and Jackson Senior Research Fellow in Land Use and Environmental Change
Prof Thomas Hale, Professor in Public Policy
Prof Dame Sarah Whatmore, Professor of Environment and Public Policy
Lina Yassin, COP27 delegate of the Republic of Sudan
Tweet link opens new window
Tweet