Maurice Lubbock Memorial Lecture 2023: The pathway to delivering fusion power
Professor Sir Ian Chapman
Start &nbsp

Friday 16 Jun 2023 3:00pm

Finish

Friday 16 Jun 2023 5:30pm

Venue

Oxford Museum of Natural History

Postcode

OX1 3PW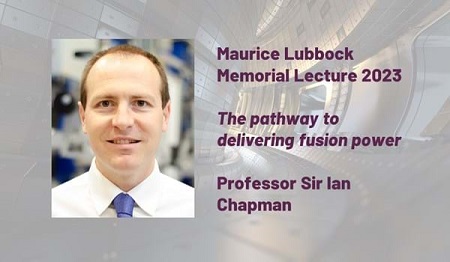 Engineering at the Extremes
Engineers have always pushed the boundaries of the possible, and this year's event will showcase Engineering at the Extremes. Our 2023 Lubbock lecturer is Sir Ian Chapman, CEO of the UK Atomic Energy Authority and world expert on the extreme engineering involved in making fusion power a reality, where the fusion material is as hot as the sun. Ian will discuss how engineering is creating solutions even in these most extreme environments, helping to bring us closer to the transformation fusion can bring about, providing abundant, cheap, clean power.
The Lubbock supporting lectures cover a breadth of Oxford Engineering Science:
Dr Chiara Falsetti will talk about how extreme temperatures, such as those found in spacecraft re-entering the earth's atmosphere, can be monitored, modelled and managed.
Professor Konstantina Vogiatzaki takes us to the other extreme of the temperature scale, talking about her work to understand the weird world of fluids at temperatures hundreds of degrees below zero.
Finally, Professor Dan Eakins will present research which explores the limits of a material's strength beyond the sound barrier.
Tweet link opens new window
Tweet