International Conference on Evolving Cities
Start &nbsp

Wednesday 13 Jul 2022 9:30am

Finish

Friday 15 Jul 2022 4:30pm

Venue

University of Southampton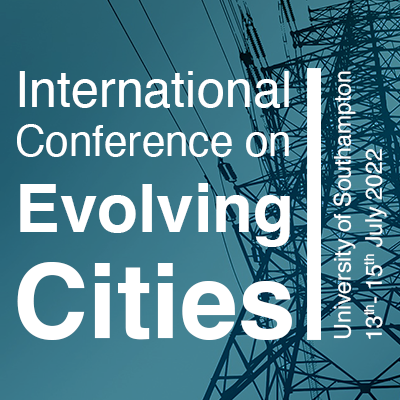 International Conference on Evolving Cities | University of Southampton |13 – 15 July 2022 | Hybrid conference
The Third International Conference on Evolving Cities (ICEC 2022) will be taking place on the 13th-15th July 2022 at the newly built University of Southampton Centenary Building (B100) situated within the Highfield Campus at the University of Southampton, Southampton, UK.
Following the success of ICEC 2021, the conference will address the important issues related to cities and their evolution, be it through infrastructure, energy, data, carbon or comfort to name but a few. Cities consume around 75% of our energy with a similar value for emissions, hence impacting the environment and society. ICEC 2022 will debate the steps needed to propel cities towards healthier and low carbon pathways covering the following topics:
* Cities and Infrastructure;
* Energy Technologies;
* Smart Cities and Data Observatories;
* Cities, Wellbeing and Behaviour.
ICEC 2022 will bring world-leading academic research together with policymakers, regional and non-governmental organisations, and the private sector to discuss and debate the challenges faced by cities.
The Conference will be a hyrbid event allowing for in-person and virtual attendance with real-time filming, production and broadcast of the proceedings online through our virtual event platform. Networking and poster exhibitions will be facilitated on-site and through the virtual platform providing participants opportunity to discuss ways to develop multi-stakeholder partnerships and implement innovative solutions to propel cities towards low carbon pathways.
You can find out more and register by going here.
Tweet link opens new window
Tweet