Green Action Week – University of Oxford – 20-24 February
Start &nbsp

Monday 20 Feb 2023 9:30am

Finish

Friday 24 Feb 2023 5:30pm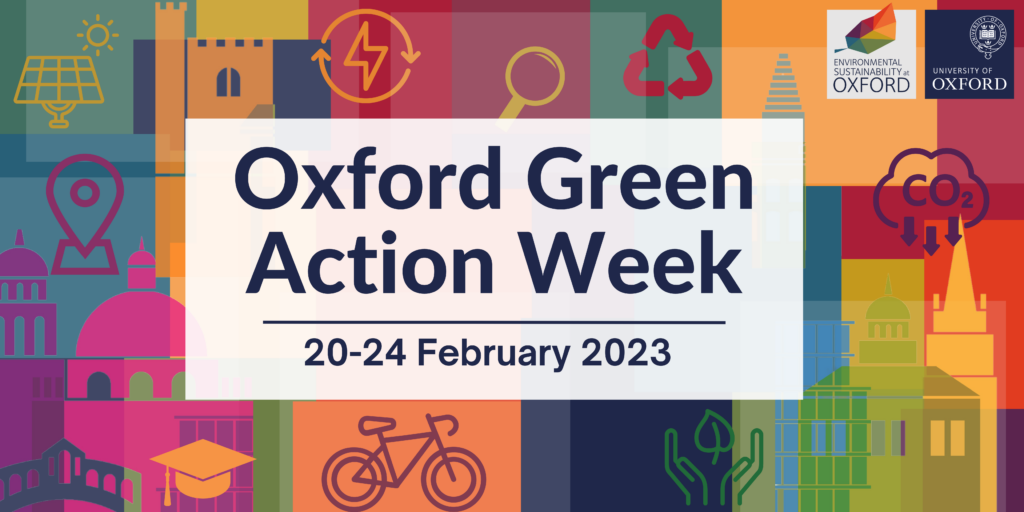 The Environmental Sustainability team of the University is hosting, for the first time, a Green Action Week during Hilary term, 20-24 February 2023.
It is an exciting opportunity to bring together the diverse and extensive sustainability work in which Oxford University is involved. The week aims to enhance networking and exchange of ideas, engage students and staff with research and activities, raise awareness, and celebrate with colleagues.
The week will start on Monday, 20 February 2023 with a festive issue of the Oxford Bulletin that will be dedicated to environmental issues, and a parallel publication in the Students Newsletter.
The week will include various activities throughout the University and colleges, including talks, tours, a fair, roundtable events, pop-up stands, and more.
At the moment we have about 40 events listed. You can read more about the plans here.
The week after Green Action Week, you can attend an Oxford Energy Seminar on Tuesday, 28 February, 5 pm to find out about the work of the Sustainability Team, in the Estates Department, University of Oxford – – more information here.  Harriet Waters and Tom Yearly will explain the University's Sustainability Strategy and the plans to reach Net Zero Carbon by 2035.
Tweet link opens new window
Tweet